12.09.16
Tripawds is a user-supported community. Thank you for your support!
It's time for me to write about our goodbye to Baloo, which is both cathartic, and sad, but as with my other posts, I do with the goal of helping anyone out there facing an amputation for a pet with any fear.  Amputation and chemo therapy saved Baloo's life.
I had a blog post saved celebrating Baloo's one year ampuversary at the end of October, but never finished it, because following that milestone, it became increasingly apparent that time was growing very short with our boy those first few weeks in November.
His legs grew wobbly, and though he still had more than enough energy to make it into the kitchen to beg, it became routine for me to carry him outside and to wherever we were in the house. His tails wags were still enthusiastic, but his energy waned. Even in that state, he still managed to squeak his toy every now and then, showing us he was still all lab.
The signs were subtle, but added up. With my Dad and brother coming into town for Thanksgiving, I know we were waiting for those few last days so that they could say goodbye too.
Almost twelve years ago around 11/18/04 or so, my mom, dad and I picked up a 9 week old chubby puppy from the cold mountain foothills of Mount Shasta, and drove him home before Thanksgiving. He slept on my lap the entire way.
And like that first Thanksgiving in 2004, and past years, this last Thanksgiving, Baloo had us all surrounding him as well.
We all agreed that it was time to say goodbye, and though it would have been nice to do that as a family while everyone was in town, we had other guests visiting for the holiday, and didn't feel that entertaining and mourning were a good combination. So mom and I planned to say goodbye after our guests had left, even though my Dad wouldn't be able to be there.  Dad never did well on those tough vet trips, so it may have been a blessing.
A lovely vet who had known Baloo through his year of chemo was available to be with him, but we were worried he'd perk on the way to the vet as he always did, making us question the timing.  Baloo was not yet suffering, but we felt like his decline was beginning to become rapid.  Our other dogs had greeted the vets happily despite it being very much their time, and it broke our hearts.
But just two days later, there was a drop of blood in the water I was giving him, erasing any doubt. My brother drove back down from LA to be there with him, and thankfully was able to carry him to the car.
Instead of enjoying the car ride as we'd thought, he laid his head in my lap staring into my eyes, never once registering interest in the ride. Just like his first ride home, he made his last ride; in my lap. He'd done that quite a bit the last few weeks, and I was glad to comfort him.
He was calm at the vet. She said that it was not the same dog she'd known all year, and not the same dog she'd seen even just a few weeks ago, but agreed he wasn't suffering. She believed that the small lesions I noted in his mouth were possibly a presentation of cancer as well, and agreed it was time for the gift of euthanasia, 13 months after beginning his fight with cancer.
I'd said my goodbyes dozens of times since he was diagnosed.  I told him every day that I loved him, would miss him, and that he was my world. And then I told him for the last time.
It's been just over a week, and we're not doing much better. My mom is devastated, and I am working hard to keep from cracking, because I am not sure I'd be able to rebuild if I came apart. But I know time will help, and have been lucky to have supportive friends.  The coworkers who supported me during Baloo's surgery sent this frame, which arrived yesterday. It is a lucky thing in life to have people who understand the importance of animals.
Osteoscarcoma has stolen two of my best friends.  In 2003 my 8 year old black lab Gus was taken quickly following his osteoscarcoma diagnosis because our vet was not a proponent of amputation.  He was in great pain in his final days, and we were helpless to help him.
Then in 2004 we brought home a happy bear of a puppy, and named him Baloo. 11 years later, he too was diagnosed with osteoscarcoma.  This time we were able to give him a JOYOUS year following amputation, and though he eventually succumbed to cancer, he did not suffer in the end. Life on three legs IS good. It's nothing to fear. People are the ones who feel sad for a dog without a leg, but Baloo proved that life lived on three legs rocks.  And as his guardian, I am thankful that for 13 glorious extra months, I had this light in my life.
I've loved, and lost, many special animals in my life.  It is always too soon.
My wish with this blog was to encourage others facing the difficult path ahead with amputation. If your dog NEEDS surgery, don't be afraid. Be happy! There is a way you can help your dog feel better, and for that, feel good! You are not helpless!  Your dog reads your energy, so find a way to see amputation for what it is – a gift.
What a wonderful bonus year life as a tripawd was. A year of things like these below.  Are any of these things not what quad dog does?
It was a great year.
In fact, that bonus Tripawd year looks EXACTLY like a normal year to me.
So which is he in the photos below?  Quad or Tripawd?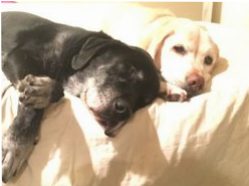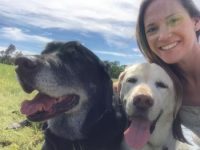 Not knowing is the entire point!
(Both Tripawd, by the way)
So if you're wondering whether your dog will live a normal, happy life after amputation, the answer is, that is up to you as much as it is up to them. If you are happy, they will be too.  Enjoy them. Find the joy in the time you're given, and they will too. However much they can do is exactly enough. Live in the moment, because the moment will be over far too soon. Be thankful for it.
In the aftermath of our goodbye, the one comfort to us all is how thankful we all are for this year, and the ability to help him in a way that we couldn't for Gus through amputation and chemotherapy.  We would do everything we did exactly the same way, every single step of the way.
Thank you Tripawd community, for your support this year!  It's been a comfort.
All our best to you, your tripawds, and your spirit animals,
Erin and Spirit Baloo